the ultimate journey to wine mastery
WSET 3 Wine Course in Amsterdam in English
With a world-class curriculum and an exceptional array of wine samples, this course promises an unforgettable journey into the heart of wine excellence. Whether you're a seasoned sommelier or a passionate wine enthusiast, our WSET 3 Wine Course offers a unique opportunity to elevate your wine knowledge and expertise while enjoying our exclusive Prinsengracht location.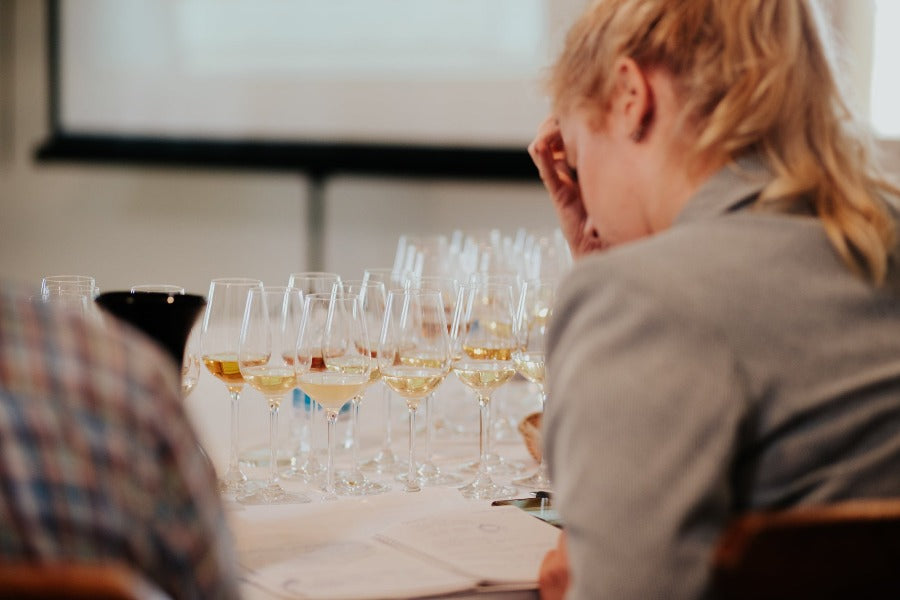 WSET Level 3 in Amsterdam - Advanced Wine Course in English
LOCATION: Prinsengracht 754, 2nd floor, 1017LD, Amsterdam
Set of 6 ISO Wine Glasses Provided 
COURSE IN DETAILS
WSET 3 Wine Course in Amsterdam in English
Eleanor Wine Academy in Amsterdam invites you to embark on the journey of wine mastery with our prestigious WSET Level 3 in Wines course. Designed for wine enthusiasts and professionals, this advanced qualification provides an in-depth understanding of the factors influencing the style, quality, and pricing of still, sparkling, and fortified wines from around the world.

Our 10-session course, spanning over 30 hours of instruction, includes an additional day dedicated to the examination process.
Here's a glimpse of what you'll learn in this comprehensive program:
Part 1: The Key Factors in Wine Production
In this section, you will delve into the essential elements that influence the style, quality, and pricing of wines. You'll learn about:
Location: The impact of terroir (soil, climate, and geography) on wine characteristics.
Grape Growing: An in-depth study of grape varieties, viticulture practices, and vineyard management.
Winemaking: The wine production process, from grape to bottle, including fermentation, maturation, and bottling.
Maturation and Bottling: The role of aging and bottling in shaping a wine's character.
You'll gain a comprehensive understanding of how these factors come together to create the diverse range of still, sparkling, and fortified wines found across the globe.
Part 2: How to Taste and Evaluate Wines
This part of the course focuses on wine tasting and evaluation using the WSET Level 3 Systematic Approach to Tasting Wine® (SAT). You'll learn how to:
Taste Wines: Develop your palate and sensory perception to identify wine characteristics accurately.
Describe Wine Characteristics: Learn the language of wine and how to describe its appearance, aroma, and flavor.
Evaluate Quality: Understand the criteria for assessing a wine's quality, balance, and overall appeal.
By the end of this course, you'll be well-equipped to confidently taste, describe, and evaluate wines using a structured and professional approach.
Breakdown of the 10 Sessions:
1. Course Induction and Tasting Techniques
Begin with a course induction and learn essential tasting techniques. Delve into the natural factors and human influences in the vineyard, understanding how they impact the wines you enjoy.
2. The Human Factors in the Winery
Explore the critical human influences in the winery that play a pivotal role in shaping the style, quality, and pricing of wines.
3. White Wines of Germany, Alsace, Austria, and Tokaji
Embark on a journey through the white wines of Germany, Alsace, Austria, and the Tokaji region of Hungary. Dive into the exquisite white wines of Burgundy.
4. The Wines of Loire Valley, Bordeaux, and South West France
Explore the unique characteristics of wines from the Loire Valley, Bordeaux, and the South West of France.
5. Red Wines of Burgundy and the Rhône Valley
Dive into the world of red wines from Burgundy and explore the red and white wines of the Northern Rhône Valley. Uncover the nuances of red, white, and rosé wines from the Southern Rhône Valley.
6. Southern France, Spain, Portugal, and Northern Italy
Journey through Southern France, exploring the wines of Spain and Portugal. Delve into the world of red and white wines from Northern Italy.
7. Red and White Wines of Central and Southern Italy
Continue your exploration with red and white wines from Central and Southern Italy, and further uncover the charms of the red and white wines of Greece. Discover premium red wine regions in the New World.
8. Premium Red Wine Regions of the New World (Part 2)
Build upon your knowledge of premium red wine regions in the New World. Additionally, explore white wine regions of the New World.
9. Regional Specialties of the New World
Dive into the regional specialties of the New World, where you'll explore unique and emerging wine regions.
10. Sparkling & Fortified Wines
Conclude your journey with a deep dive into the world of sparkling and fortified wines, understanding their production and characteristics.
Course Inclusions:
The course fee covers all aspects, including:
Wine Tastings: You'll have the opportunity to sample a variety of wines, allowing you to apply what you've learned in a practical setting.
Study Materials: You'll receive the comprehensive WSET 3 study pack to support your learning.
Exam: The course culminates in an examination that includes both theory and tasting assessments.
Certification: Upon successful completion, you'll be awarded the prestigious WSET certificate and lapel pin, and you'll be entitled to use the associated WSET certified logo.
About the WSET Level 3 Award in Wines Exam
The WSET Level 3 exam consists of both theory and tasting assessments. In the theory exam, you'll tackle 50 multiple-choice questions and four open questions, each requiring a minimum of 55% to pass. The tasting exam, conducted in 30 minutes, involves evaluating two blind-tasted wines, one red and one white, with a 55% minimum passing mark.


**ENTRY REQUIREMENTS:**
You can enroll in the WSET Level 3 course without having previously completed the WSET Level 2, although we recommend contacting us for guidance, especially if you're unfamiliar with the Systematic Approach to Tasting (SAT).While it's highly recommended to have completed the WSET Level 2 Award in Wines, it's not mandatory. Demonstrating an equivalent level of knowledge is also acceptable.

Please note that a minimum of four participants is required to commence the course, and we encourage you to review the WSET Level 3 Award in Wines in Class specification document before embarking on this enriching wine journey.
Read Specifications
Let customers speak for us