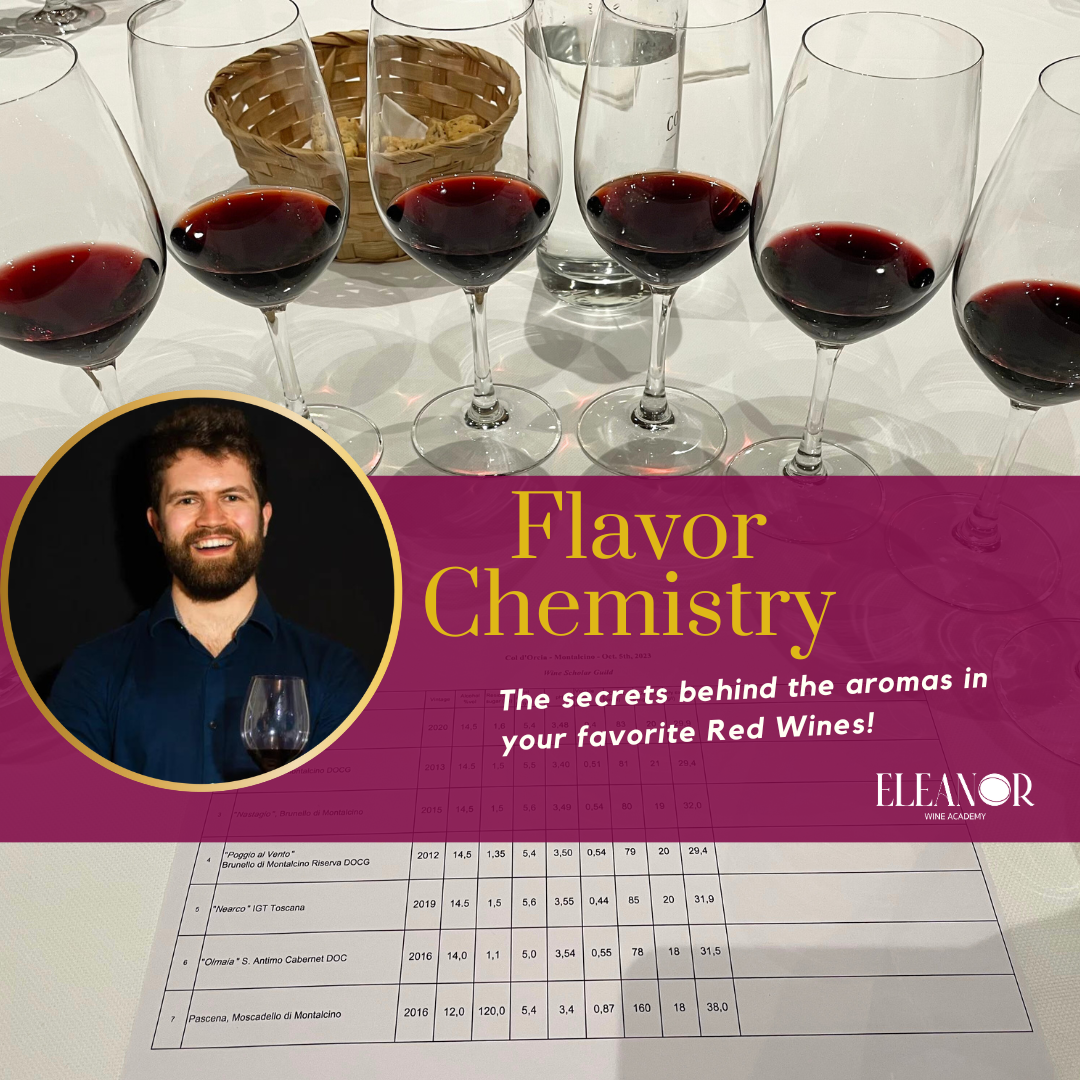 Wine Flavours Workshop in Amsterdam: the secrets behind the aromas in Red Wines!
About the wine flavours workshop in amsterdam
Why can we detect specific aromas such as pepper, violet, vanilla etc. in wine? Explore and learn the Chemistry behind Wine Aromatics! Join us at Eleanor Wine Academy in Amsterdam Prinsengracht for an exciting wine tasting workshop, led by Sietze Wijma from The Art of Tasting.

What you can expect:

🍷 Exploring Flavor and Aroma Compounds in Wine: Understand how different grape varieties, winemaking techniques, and microorganisms contribute to the wonderful world of wine flavors.
👨‍🔬 Guided by Flavor Chemistry Specialist: Sietze Wijma, with an MSc in Sensory Science, will unveil the origins of 10 significant flavour compounds found in red wine, including rotundone, eucalyptol, and TCA.
🍇 Hands-On Learning: Sample 11 glasses of the same neutral wine, with 10 of them enhanced by a single aroma compound, making it easier for you to recognize specific flavors.
🧐 Test Your Skills: The session will wrap up with a fun blind recognition activity to put your newfound tasting skills to the test.

This workshop is perfect for intermediate-level wine students (WSET 2 and above) and enthusiasts who want to elevate their wine-tasting expertise. Limited places available! 🥂📚🍇
Sietze, hailing from the Netherlands, is a Wine and Beer Enthusiast. Through his company, "The Art of Tasting," he curates one-of-a-kind tasting experiences, shares his knowledge on flavor chemistry, and assists professionals and connoisseurs in refining their tasting skills. His professional background includes prior employment in England with a manufacturer specializing in flavor compounds. Sietze is currently pursuing the WSET Diploma, holds the title of an Advanced Cicerone®️, and a Master of Science degree in Sensory Science.

Booking terms and conditions
Payment in full must be made at the time of booking and places are not confirmed until payment has been received. Unfortunately we cannot take provisional bookings.
Cancellations and transfers
Cancellations and transfers can be made up to three weeks before the event.
Cancellations within 10 working days are non-refundable and cannot be transferred to another event.
If you need to change a name on the booking, please give us as much notice as possible.
Eleanor Wine Academy reserves the right to cancel an event. If necessary, a full refund or transfer will be offered.
Minimum 10 participants to confirm the workshop
Let customers speak for us